The HUNTERS of The Lost HUNTER
All Bloodhounds used for wilderness Search and Rescue, are Bred and Trained at Chinook Kennels.
We are men and bloodhounds devoting our
lives to saving the lives of lost hunters & children lost in the wilderness.
Asking nothing in return.

Chinook Kennel is located in the mountains of Northern Pennsylvania
Phone and Fax- (570)673-4206
A wilderness team ready to start the search.

The Pack dog will carry 3 days food for the

dogs, the searchers will carry MRE meals.

All searchers are licenced to carry firearms.
When properly bred and trained,

A Bloodhound is a loving dog. It

only wants to lick & kiss any dog or

human it can find.
"THE LACK OF A MATCH" by Rick Kavanaugh
"THE OUTHOUSE WAS EMPTY" by Rick Kavanaugh
"THE MEMORIAL" by Rick Kavanaugh, aka Kevin Sean Kelly
"THE FOUR DAY TRAIL" by Rick Kavanaugh, aka Kevin Sean Kelly
"THE BOTTOMLESS PIT" by Rick Kavanaugh, aka Kevin Sean Kelly
"THE REJECTED BOYFRIEND" by Rick Kavanaugh, aka Keven Sean Kelly
JOIN OTHER WILDERNESS SEARCHERS IN E-MAIL
LEAVE ME A MESSAGE AT THE LOST HUNTER'S MESSAGE BOARD

View My Guestbook
Sign My Guestbook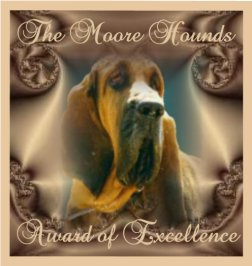 Web Page Design by Moore Illustration